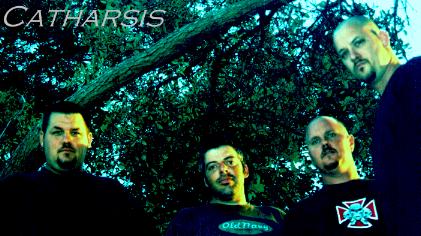 FROM MEDIATOR TO ABOLISHED DEATH
TO CATHARSIS
---
1990-1993
MEDIATOR in the early 90's consisted of Lead Vocalist: Kevin Radlein,
Drummer: Damion Johnson, Guitarist: Dave Carew, and Guitarist: James Repp. They had several Bass Players through the 3 years that they played, but James played the Bass tracks for the songs that are now available on the internet. Mediator played many shows in the Central Florida area and had the opportunity to share the gospel of Christ with many people.

1996
ABOLISHED DEATH formed in the years after Mediator broke up. Kevin Radlein still on Vocals and Damion Johnson on Drums. They teamed up with Guitarists Dwayne and Rick. Still no Bass Player...However, Abolished Death was a short-lived project. The band only lasted a few months without having played their first show.

2001-
Years later, (2001) Damion Johnson, Kevin Radlein, and James Repp decided to form a new project. James introduced Bass Player Michael Orrison to Kevin and Damion. CATHARSIS was formed. Now in September 2002 Greg Summers has joined the band. Come see us when you can.
Catharsis is purification. (cf. Titus 2:14)